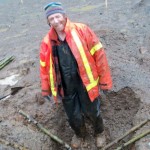 My name is Thor Smestad (B.S.F., M. Sc., P.Ag.).                               This website, now Treebear Reclamation Techniques, morphed out of the website for my company (dormant now) – Treebear Native Plants & Ecological Services – which I started in 2012. This was after working for years in the field of soil erosion control and ecosystem restoration – including for a leading company in this area, Terra Erosion Control (Nelson, BC).
Much of this work involved the design and implementation of soil & water bioengineering and biotechnical slope stabilization treatments, through BC and Alberta. These techniques use dormant live cuttings of willow species, Red-osier dogwood and Black/Balsam Cottonwood/Poplar – planted in a variety of arrangements and structures – for example, live stakes, brush layers, or various fascine / pole drain structures.
But what I have learned is that live cuttings can be a very effective means of stabilizing and re-vegetating a site, however –
– in many reclamation situations a cutting/plant with a well established root system will be superior.
Standard potted nursery stock is an alternative to rooted cuttings, but to obtain plants 2.5 m+ in height, you would likely be looking at material grown for several seasons in a nursery and transplanted into very large (e.g., 5-gallon) pots. These are expensive to purchase as well as plant.
But TRS cuttings are an alternative. The concept revolves around producing very tall rooted planting stock through combining large woody live cuttings (soil bioengineering technology), and the production of a healthy potted root system (nursery technology).
The first TRS cuttings (about 400) were produced in a small trial backyard nursery during the summer of 2012. The results were very good. A nursery specializing in the production of these plants was therefore established in the spring of 2013, and continued for three seasons. The nursery was located at Bear Springs Farm near Nelson .. and thanks again to my good friends Marvin and Adriana for lending me some space on their land to do this.
The last year I produced these plants was 2015, and the nursery is not operating at the present time – however colleagues of mine now carry the torch (contact me for details). The purpose of this website now is to share my knowledge with respect to producing these plants and how to use them – I hope this information is of value to you.