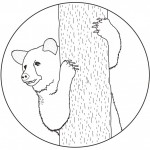 Treebear Native Plants and Ecological Services is a Nelson based company providing ecosystem restoration services throughout the Kootenay region of British Columbia.
I focus on the use native Willows, Red-Osier dogwood, and Black Cottonwood to restore degraded ecosystems. My flagship product is very tall – 2 to 3 meters or more in height – rooted live cuttings of these species. They are called Tall Rooted Spike Cuttings or TRS Cuttings.
These rooted cuttings are proving to be an effective way of establishing native tree and shrub vegetation in more difficult to restore ecological situations. Examples are where there's high herbaceous weed competition, or where there's greatly fluctuating seasonal water levels. The well-developed root system on these plants accelerates establishment and improves survival (as compared to dormant unrooted cuttings), and because these plants are tall (and sturdy) they provide greater immediate wildlife habitat and aesthetic benefits. The great height of TRS Cuttings may even put new shoots out of reach of ungulate browsing.